Organic breakfast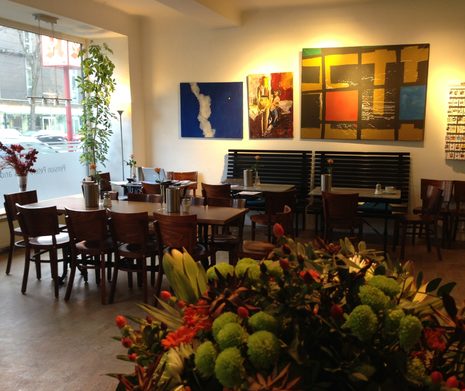 We always try to offer you a breakfast according our environmentally friendly philosophy: Most of the items in our breakfast are of organic origin. We refrain as much as possible from serving items which are individually packaged. We serve organic Fair Trade coffee and at least one of our teas comes from organic farming and is also a Fair Trade product. You will find a notice next to the buffet every morning with information about products that are organically grown.

If you have special dietary restrictions, please inform us when making your reservation. We are able to service you a gluten- and/or lactose free breakfast, instead of our normal breakfsat buffet. There will, of course, be no extra charges for such a breakfast.
Breakfast ingredients
Coffee of all kind (incl. Espresso, Capiccino etc)*, tea, milk chocolate, orange-juice, yoghurt, müsli, cornflakes, fruits, eggs**, sweet pepper, cucumbers, tomatoes, German bread (grey and black), Scandinavian Knäckebröd, rolls, butter, liver pate, melted cheese, Phildelphia cream cheese (natural or with herbs), different kinds of coldcuts and of sliced cheese, different kinds of jam, chocolate-cream, honey and fruits after season.

* after request even without coffein
**after request
For tax reasons we are not allowed to include the breakfast in the room price, and charge 8,00€ per person and night, including VAT. There is no city-tax added to the breakfast price!